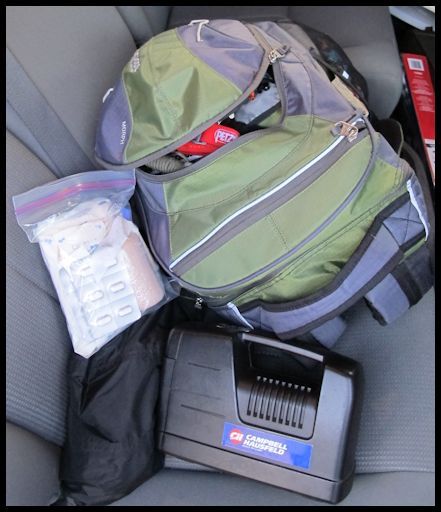 I have a possibles bag that hangs out in the back seat of my truck and is filled with general might-need items; a change of clothes, poncho, lighter, cordage, cash and quarters, Clif bars, small first aid kit, etc. Some people on the survival forums might call this a Get Home Bag, an abbreviated version of a bug-out bag, but I would definitely call it more of a murse than a GHB. Some day I should do a real inventory and improve what's in it - most of the contents have just accrued as I've tossed them in.
One of the guys I work with has benefited from my murse a few times - we used some of my paracord to make a lanyard for an oxygen wrench, earlier this week I gave him some Immodium because he was having some serious GI distress from a chili dinner, and just last night I let him borrow my 12v air compressor when his girlfriend came up to the station with a flat tire. After he was done with the compressor he said,
"Man, why do you keep all this stuff in your truck?"
I gave him the easy answer ("For times like this...") but I was doubly confounded. He's personally benefited (several times) from having a friend who makes some effort at being prepared for life's little emergencies, so why would he need to ask? But more importantly, we're both firefighter/paramedics - our career involves helping people who have been caught flat-footed by life's larger emergencies! How can he not understand why I keep this stuff in my truck?